The Indelibles have a rush of summer-time
releases
for your beach-time reading pleasure!
And we're giving away a Nook or Kindle loaded with new releases
so you can tote every last one to the beach!
Plus, an ecopy of the below fabulous new releases, including Spider Wars:
Jess' life has never been ordinary. After all, life on the road with an immortal family of gypsies is hardly predictable. Living in the small town of White Salmon, Washington has brought some normality to her life. But when her cheating, sometimes boyfriend, Nicu, gets involved with a group of arachno-shifters, life gets a little sticky. Will she be able to save him from the web he's spun? More importantly, how much is she willing to risk to get him back?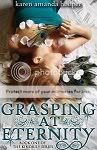 (Can't wait to win? Click on the covers to buy now!)
You must visit Indelibles blog to start the hop.

Visit each site to collect the key/secret words for the winning phrase.

Then return to the Indelibles blog to enter the winning phrase (mandatory) in the Rafflecopter form below.

For extra points, you can subscribe to our newsletter (which will inform you of future Indelibles releases) or follow us on Facebook or Twitter.

Contest begins on Monday, May 21st at 12:01 AM EST and ends 12:01 AM EDT on Friday, May 25th
~Good luck!~